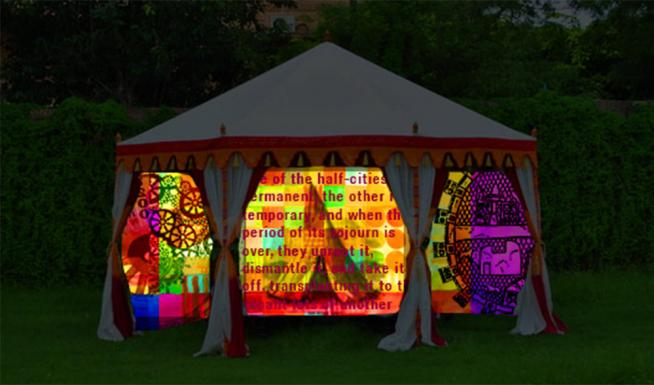 Sophronia Tent. Rendering courtesy the artist.

Graffiti Angel in Sophronia
In his novel Invisible Cities, Italo Calvino writes: "The city of Sophronia is made up of two half-cities, in one there is a great roller coaster with its steep humps, the carousel, the Ferris wheel, the death-ride with crouching motorcyclists, and the big top. The other half-city is of stone, with the bank, the factories, the palaces, the slaughterhouse, the school, and all the rest. One of the half-cities is permanent, the other is temporary…"
Inspired by Calvino's imaginary cities, Graffiti Angel in Sophronia is an interactive multimedia work by Joellyn Rock, Kathy McTavish, and Rob Wittig that mixes video, images, music, and text to create a second Sophronia. Improvising on audience suggestions, a team of Netprov (networked improv narrative) writers weave in stories of the half-cities. Visitors can contribute on Twitter at #sophroniatwo or learn more at sophroniatwo.com.