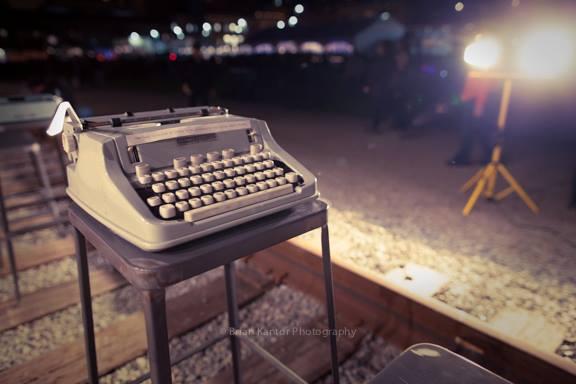 Write Fight 2013. Photo by Brian Kantor.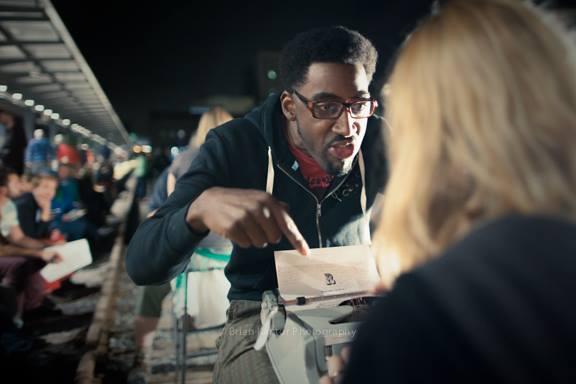 Maggie Ryan Sandford is distracted by a Brian Beatty's trash talker. Photo by Brian Kantor.
Sally Franson, in the middle of a dance party, writing. Photo by Brian Kantor.
Write Fight II
Write Fight II is a single-elimination tournament where eight writers go head-to-head, amidst distractions, battling to be crowned Champ. Last year, local writer Maggie Ryan Sandford took the title, defeating Sally Franson with a story about death, banana peels, and the irony of it all. They wrote on typewriters in the center of a giant dance party. Earlier distractions included feeding the writing fighters pudding, trash talking, water dancers, and a choir.
Maggie Ryan Sandford will defend her title in 2014, but there will be more than 7 other writers vying for a shot to take her crown. This year, Write Fight goes digital. Revolver is inviting 28 local writers to compete for a chance to go to Northern Spark. Rounds will pit writer against writer in daily bouts until there are only 7 left. Watch our website and social media channels to throw your name in the hat.
In 2014, the distractions will be bigger, weirder, and rowdier. Or maybe cuter. As always, we'll keep you guessing.