Northern Spark 2014
Northern Spark is an all-night arts festival that lights up Minneapolis on June 14, 2014.
On the second Saturday in June each summer, tens of thousands of people gather along the Minneapolis riverfront and throughout the city to explore giant video projections, play in temporary installations in the streets, and enjoy experimental performances in green spaces and under bridges. From dusk to dawn the city surprises you: friendly crowds, glowing groups of cyclists, an unexpected path through the urban landscape, the magic of sunrise after a night of amazing art and experiences. Northern Spark is the one-night arts event people talk about for the rest of the year.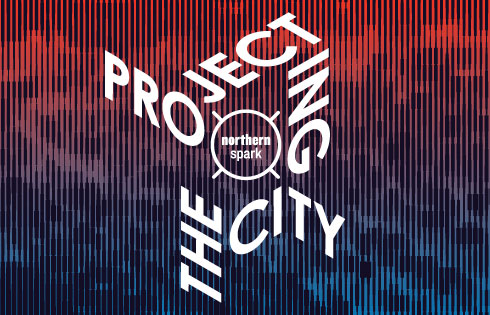 In 2014 our theme is "Projecting the City." All too often the city feels fixed, a stolid entity that we as individuals have little opportunity to affect. We asked dozens of artists to project onto Minneapolis—onto its architecture and its infrastructure—their idea of what the city could be, might aspire to be, never should become. These projections are literal or imaginative and take many forms, from video to dance to music to interactive events. We invite you to participate in this reimagining of the city, whether by performing as a Folkopolis singer, posting a missive into the night, attempting to solve the great Northern Spark murder mystery, visualizing the Minnesota Orchestra play in a new light (or conducting your own gossip orchestra), adjudicating a friendly Write Fight, rebalancing your life on a seesaw, or even projecting yourself on the iconic Gold Medal silos or the Minneapolis skyline.
We welcome you to keep reimagining the city with us throughout the year by helping to sustain Northern Spark—as an artist, volunteer, advocate, or donor. Sign up for our newsletter, help out with a donation, do what you can to stay in touch and add your support to the growing community that makes Northern Spark happen each year.
This is your city. What will you make of it? This is your community. How will you participate in it? This will become our future. How will you shape it? What will you discover at Northern Spark that encourages you not only to see the city in a new light but to act on it, every day?
Northern Spark is presented by Northern Lights.mn, a nonprofit arts organization with the mission to transform our sense of what's possible in public space. Northern Spark is one night, but Northern Lights.mn shines throughout the year with projects such as the Giant Sing-a-Long at the Minnesota State Fair, Art(ists) On the Verge, and permanent, interactive public art for Saint Paul Union Depot. For more information, visit us at http://northern.lights.mn.