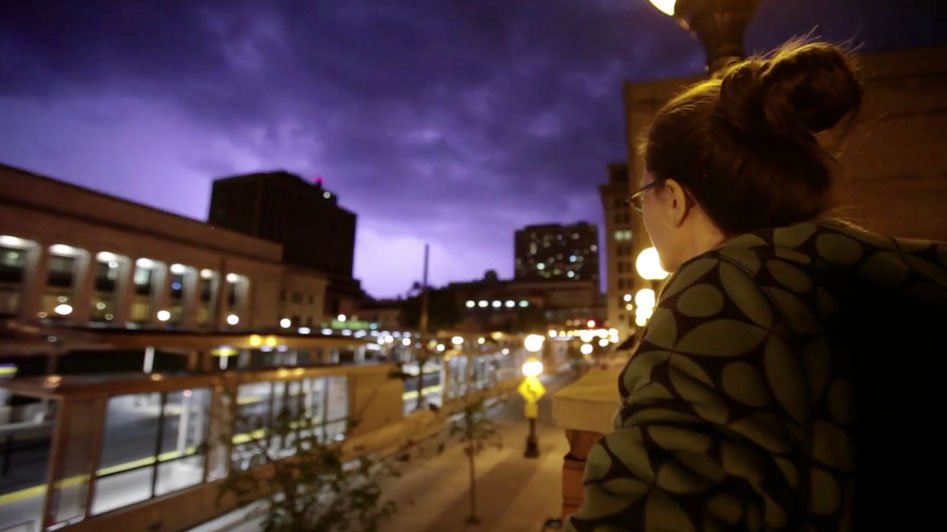 Northern Spark happens rain or (moon)shine! The current forecast includes rain, but rest assured, our plans ensure that most every project will be presented. Some project locations have changed. (See below.)
Be sure to bring your rain gear and your sense of adventure. Most festival projects already take place in sheltered locations, and after all, what else brings Minnesotans together like a little bit of weather? Who knows—the light and atmospheric conditions of a possible shower or two can be a surprising poetic addition to a projection piece, or heighten the meaning of a participatory project—that's the magic of bringing art out into our public places. It's truly an adventure, and one we're so excited to share with you on Saturday.
In the case of weather-related changes on the night of the festival, the best place to check for updates in real time is on our Facebook page or Twitter (@Northern_Spark or #nspk). Look for the #nspk hashtag. Also check with individual venues or ask a friendly volunteer at a Northern Spark Information Hub. Extreme weather may delay some events or require projects to be altered.
ALTERNATE PROJECT LOCATIONS
ZONE A – MINNEAPOLIS CONVENTION CENTER PLAZA
A1  Opening Ceremony & Free GRRRL PRTY Concert: LOCATION CHANGE – now indoors, Minneapolis Convention Center EXHIBIT HALL B
A3  Gorilla Yogis, Midnight Sparkler Yoga Event – now inside Minneapolis Convention Center
A12 St. Paul Ballet Company, Footsteps – some performances may be delayed 
• If you don't see a project on the green plaza, look for it on the outdoor covered arcade in front of the Convention Center. 
ZONE B – WEST RIVER PARKWAY
B6   Piotr Szyhalski, Public Print Works – moved to ZONE E – MCAD College Center 
B14 MINN_LAB, POSTography – moved under Hennepin Avenue bridge
B15 Flightless Bird Brothers & Shiny Naughty Collective, Razing Minneapolis…Ghostly Tour – moves under the Hennepin Ave bridge
B16 C. Campbell, M. Croswell, & G. Cutler, Field Frequency – moved under the Hennepin Ave bridge
B17 Russian Avant-Garde Film Festival – moved to The Soap Factory
B22 Dakota Combo, Live Jazz Performance (MacPhail) – Cancelled if heavy rain present at 9:30 pm
B27 David Swenson, Toast the Gods – check Twitter #nspk for updates
B29 Emily Johnson/Catalyst – Be Mountain (Shore preview) at 10:30 pm moved to Mill City's covered train shed. Enter near Guthrie/Chicago Ave.
B32 Benjamin Entner, Ego Sum – moved to The Soap Factory – now open all night!
ZONE C – DOWNTOWN / HENNEPIN CULTURAL DISTRICT
C7 Karl Unnasch, Glassicles chandelier in MadeHere's Parklot – check social media
C8 Jaime Carrera's 10p + 1am performances move to 2nd Floor windows of Nat'l Camera Exchange building
ZONE D – WALKER ART CENTER / LORING CORNERS
D5  1612 Harmon Place – All music and activities moved indoors except tented Ping Pong
D9  Walker Art Center – Graffiti Angel moved indoors to Medtronic Gallery
ZONE E – MIA / MCAD / GREENWAY
E5            The Nicollet – The Unicorn Show – cancelled (not due to weather)
E6-E7      Minneapolis Institute of Art  – No changes
E10, E16 Minneapolis College of Art & Design – Outdoor projects moved indoors
E18-E28 Midtown Greenway – Check in at Freewheel Midtown Bike Center for possible location changes 
ZONE F – UNIVERSITY
F1-3 Bell Museum – No changes
F11   Northrop – Scott Pampuch, 100 Course Dinner on the Mall – moved to 326 SE 17th Ave – Residence Hall
F12   Northrop – HECUA, Crazy Cozy – moved to the Bell Museum
F13   Weisman Art Museum – Gossip Orchestra moved into covered walkway
F14   Weisman  Art Museum – Raptor Center – Owls may not appear if rain is present