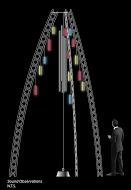 Giant tubular chimes with LED lights. Illustration courtesy Brad Kaspari.

Sound Observation
Sound Observation will explore harmonic sounds and lighting effects through large-scale tubular chimes and LED lights. The project will bring 30+ vertical tuned chime assemblies and lights to the Greenway, which will be activated by audience members and scheduled performers, including original works composed by Minneapolis-based composer Eric Jensen. Frequencies from the chimes will also be sampled and used to trigger multiple solar-powered LED light displays.
My goal is to produce an interesting intersection between the urban infrastructure, its acoustic properties, and the potential for masses of low-level, animated points of light. Think of it as interactive sound & ambient lighting for the urban environment.
Original music composed by Eric Jensen.