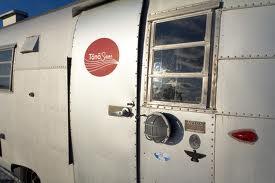 TönöSauna. Courtesy the artists.
TönöSauna. Courtesy the artists.
TönöSauna. Courtesy the artists.
TönöSauna
ASI will commission select members from Future's North, a design+fabricate+build collaborative that shares a passion for design, innovative technologies and the construction of social art spaces to repurpose TönöSauna, a mobile sauna built from a salvaged 1966 Avion travel trailer to project conversations that take place inside the sauna outside, out to the larger world.
Social geographer and artist/activist blogger, Bill Lindeke, will facilitate conversations in the sauna about our shared dreams for this city.
TönöSauna's aim is create an alternative social and civic space for the evening, a mobile platform for public conversation, art and dialogue that will transform with us, not just perform change on us.
The social experience created by TönöSauna is reflected in its architectural arrangement – TönöSauna is an ergonomic landscape meant to accommodate a wide variety of body positions and types. TönöSauna creates a temporary community for exploring ways unregulated public spaces can be colonized to promote social exchange and sharing.
As an organization committed to being a gathering place, where people from all different walks of life can gather unencumbered to share stories around the universal themes of tradition, migration, craft and the arts, ASI is proud to bring you TönöSauna.