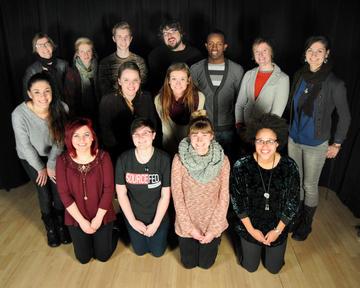 Don't be fooled, this group of dedicated student activists is ready to rock at Northern Spark. Photo by Nickey Robare.
Student filmmaker Hamza Musse works on getting just the right shot, honing his skills to make media magic at Northern Spark. Photo by Erin Walsh.
We worked with In Progress to prepare for what it means to put people both behind or in front of the camera. Photo by Erin Walsh.
Crazy Cozy
Assemble blankets. Arrange pillows. Make it just right so you can lay back in the evolving pillow fort and take in images, sounds, and stories from the places we find rest. Crazy Cozy is designed by HECUA and SPNN Making Media, Making Change college students who have called many places home in the transient years between youth and adulthood. As a result of all of our motion, we are designing a project that offers everyone a chance to slow down and reflect on the delicious and often ignored importance of rest. Share a cozy moment or perhaps a crazy pillow fight. The space will never be the same twice.
Media Instructors: Pete Poire-Odegard, Nadia Honary, Instructors: Erin Walsh and Molly Van Avery