NCC 2004 commission "Red and White Transformer" by artist Nina Hole at the University of Minnesota—Twin Cities. Swenson to create a similar structure. Photo courtesy NCC.
Kaowool will be used as part of the chimney to become a translucent glowing beacon, as well as insulating the kiln. Photo courtesy NCC.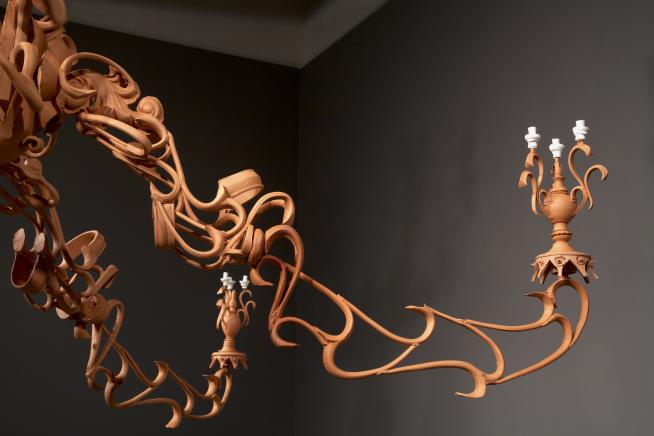 Arm of Swenson's earthenware "Handelier" (approx. 3 feet in length). Photo by Peter Lee.
Toast the Gods
Grab a fistful of clay and let your imagination run wild as you create a small good luck charm around our glowing kiln. The pantheon of kiln gods will grow across a large courtyard, representing the collective good will of Northern Spark.
If you've been in a ceramic studio, you'll recognize the small figures that adorn the large brick kilns as they glow bright orange with fire. These "kiln gods" are small effigies that represent fish, bears, monsters, people, or anything else you can dream up. Artists surrender their ceramic work to the magic of the fire and wish on these totems for a successful result.
Artist David Swenson's custom-made kiln integrates his engineered clay pieces and your conjured guardian deities. Swenson is a graduate of New York State College of Ceramics at Alfred University and is currently a teaching artist at NCC. He is a past recipient of NCC's Fogelberg Fellowship, and a 2014 recipient of a Jerome Ceramic Artists Project Grant.
Founded in 1990, Northern Clay Center's mission is the advancement of the ceramic arts. Ongoing programs include exhibitions by contemporary ceramic artists; classes and workshops for children and adults at all skill levels; studio space and grants for artists; and a sales gallery representing many top ceramic artists.
Special thanks to Whitney Landmark Residences Association, Inc.
Thank you to NCC's teaching artists and volunteers! Find a complete list on our website.