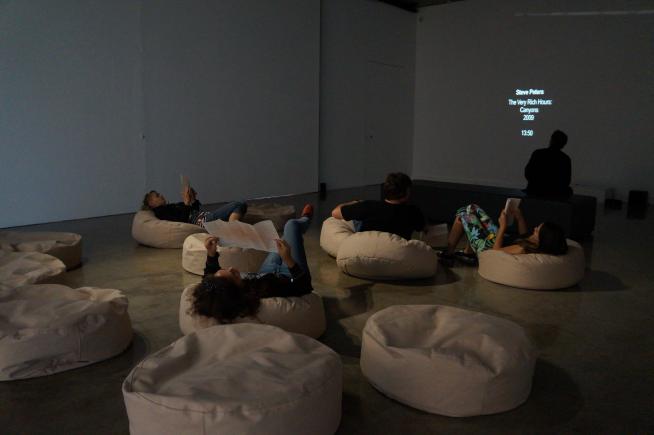 Installation view of With Hidden Noise MADA Gallery Monash University Art, Design, and Architecture, Melbourne, Australia 2013.
Stephen Vitiello Finding Pictures in Search of Sounds, 2008. Photo courtesy the artist.
The Audible Edge
The Audible Edge exhibition explores intersections of architecture and sound, inside and outside the gallery space. The gallery will be open, with special performances, lectures and events for Northern Spark visitors. The Audible Edge includes With Hidden Noise, an exhibition of sound art. With Hidden Noise is part of ICI's Exhibitions in a Box series. Produced by Independent Curators International (ICI), New York, this exhibition is curated by Stephen Vitiello. This exhibition includes sound art projects by Taylor Deupree, Jennie C. Jones, Pauline Oliveros, Andrea Parkins, Steve Peters, Steve Roden, Michael J. Schumacher and Stephen Vitiello. The Audible Edge also includes sound artworks by a number of artists, local and national, invited by the organizing team to participate in the exhibition and performance events. Michael J. Schumacher was invited to the University of Minnesota as a guest of the School of Architecture's Catalyst workshop Hearing Space: Sound as Architectural Medium during the Spring 2014 term. The Audible Edge also includes artworks by students who participated in the Catalyst workshop, as well as artworks lent to the exhibition by local museums from their permanent collections.