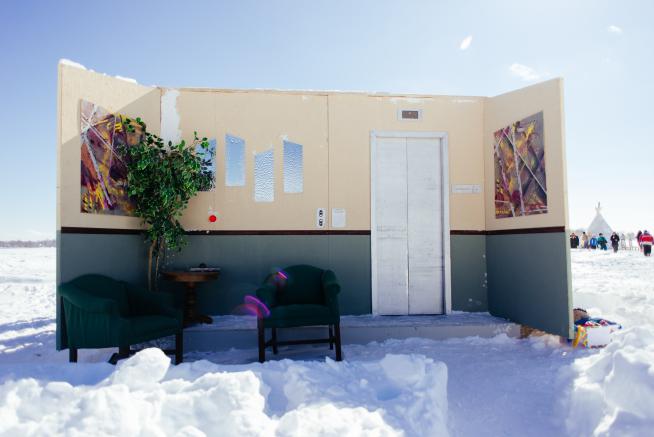 Elevator Shanty on White Bear Lake. Photo by Emily Fishman.
Elevator Shanty Interior. Photo by Jayme Halbritter.
The Elevator Shanty
With elevator themed music, puns, and general rowdiness the Elevator Shanty will surely take you to new heights. One of five 2014 Art Shanty Projects exhibited at Northern Spark.
Art Shanty Projects is an artist driven temporary community exploring the ways in which the relatively unregulated public space of the frozen lake can be used as a new and challenging artistic environment to expand notions of what art can be.The project provides a unique opportunity for artists to interact with their audience, and vice versa, in an un-intimidating, non-gallery like environment. Artists can choose to work in a way that directly engages the audience i.e. knitting or singing Karaoke or in a more passive way.
Team credit: Cali Mastny, Claire Alexander, Dan Bayn, Rachel Bendtsen, David Bryan, Lauren DeSteno, Laura Gerald, Marc Gutman, Caly McMorrow, Matt Mackall, Aaron Prust, Scott Raleigh, Cole Sarar, and Beth Scudder.